[You must be registered and logged in to see this link.]
După ce a pregătit terenul prin demersurile necesare (tehnice şI birocratice), Orange România şi-a făcut oficial intrarea pe piaţa serviciilor de retransimie televiziune prin satelit (DTH). Începând de astăzi, Orange Tv intră în competiţie cu servicii precum Dolce, Focus Sat sau Digi.
Operatorul portocaliu vine cu o ofertă împărţită în trei pachete de bază
(Local HD-36 canale, World HD-65 şI Universe HD-95
), la abonamente care variază de la
5 euro (TVA inclus) la 12 euro
. Pentru a putea folosi noul serviciu, este nevoie de următoarele echipamente: reveiver HD, Tv card şI kit de antenă. La tarifele menţionate mai sus (cu două trepte de reduceri pentru abonaţii operatorului) se mai adaugă şI alte costuri precum instalare (20 de euro) şI activare (20 euro). Aceste costuri nu sunt suportate de abonaţii existenţi. De asemenea, se mai adaugă chiria celor trei echipamente HD, o taxă lunară de 3 euro.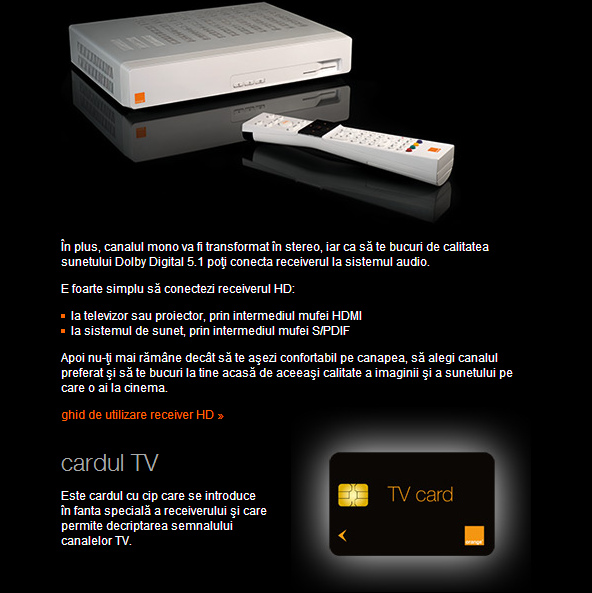 |n cele trei pachete de bază menţionate sunt 6 canale HD, respectiv 19 şI 37, canalele TV fiind transmise prin intermediul satelitului SES Astra. Serviciul Orange TV prin satelit permite restricţionarea accesului copiilor la oricare dintre canale şi configurarea a până la 5 liste personalizate de canale favorite, în care posturile TV pot fi ordonate în funcţie de preferinţe.
Pentru cei pasionaţi, există şi extraopţiunea SuperNights HD, programe XXX, pentru care se plăteste o taxă suplimentară.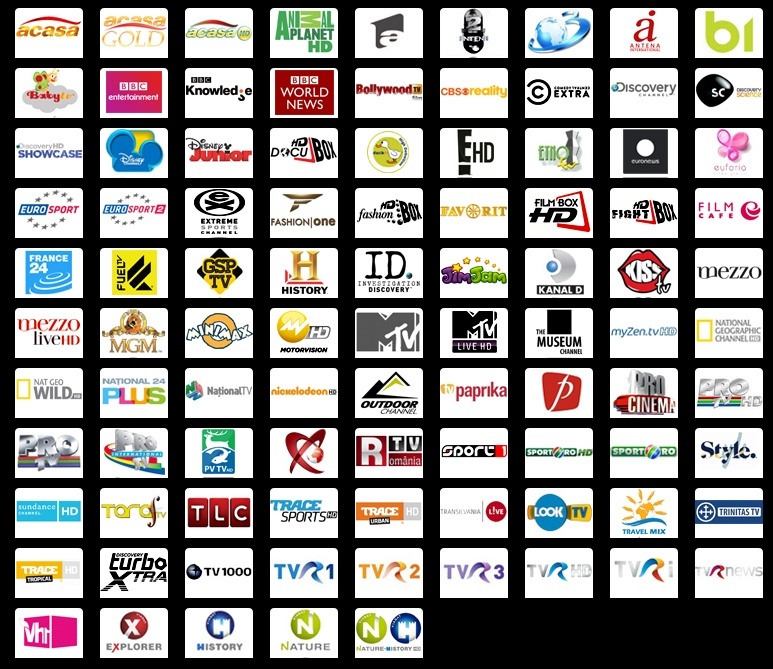 Există posibilitatea de a urmări canalele TV şi prin internet, pe computer, fiind nevoie în prealabil de un cont online pe site-ul operatorului, la care se adaugă tipul de abonament dorit. Vor urma şi platformele smartphone/tabletă.
După ultimele statistici ANCOM, numărul de abonaţi la servicii de retransmisie a programelor audiovizuale a înregistrat creşteri la nivelul tuturor mijloacelor de recepţie, 2,19 milioane fiind sunt abonaţi la reţele satelit de tip DTH (+2,3% creştere în ultimul an). Acest tip de tehnologie este dominant în mediul rural (63% dintre utilizatori).
[You must be registered and logged in to see this link.]
___________________________________
Vu+Solo SE
IPBOX 910HD
Edision Progressiv HDc+
GooBang Doo ABOX Smart TV
[You must be registered and logged in to see this link.]
Locuri de munca in Europa