A Sony Pictures Television (SPT) Networks Magyarországon is elindítja az AXN Black és AXN White csatornáit. A két új tévécsatorna októbertől érhető majd el hazánkban, és ezzel egy időben Lengyelországban, Romániában, Bulgáriában, Csehországban és Szlovákiában is megkezdi sugárzását.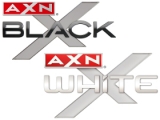 Az AXN White inspiráló, erős karaktereket bemutató amerikai és európai sorozatokat, valamint filmeket vetít majd. Főműsoridőben lesz látható Az ügyféllista (The Client List) c. sorozat, a sikerkönyvből készült Ízek, imák, szerelmek (Eat, Pray, Love) c. film, valamint a Grand Hotel c. spanyol széria. A koradélutáni műsorsávban pedig többek közt a Life Lines c. új sorozat, valamint a már több évaddal sikeresen f**ó More Than Anything és A szellemló (Heartland) kerülnek az AXN White képernyőjére.
Az AXN Black kiemelt műsorkínálata filmsorozatok, reality és doku-reality műfajokba sorolható szériák kombinációjából áll majd, melyek történeteiben a hősök, valamint a hősies cselekedetek dominálnak. A csatorna filmsorozatai között szerepel a Spartacus c. sikersorozat, illetve olyan szériák, mint a Primeval New World, a Luc Besson nevével fémjelzett No Limit, valamint A törvény embere (Justified). A reality és doku-reality műfajokban az AXN Black mutatja be elsőként a Duck Commander és a The Hero sorozatokat, de műsorra kerül a Fekete arany (Black Gold) is.
Forras:
[You must be registered and logged in to see this link.]
___________________________________
Vu+Solo SE
IPBOX 910HD
Edision Progressiv HDc+
GooBang Doo ABOX Smart TV
[You must be registered and logged in to see this link.]
Locuri de munca in Europa