The new Formuler S mini 4K it`s designed in Korea and produced in China with a Hisilicon Chipset, Flash memory eMMC 8 GBytes and 1 GBytes (DDR4) SDRAM. It is running on Android 7 Nougat and has Kodi v.17 included.
It comes with Integrated Wifi connection with internal antenna . Optionally you can add a DVB-T Usb dongle and also you can buy a TV bracket and hide it behind your Tvset.
It`s a hybrid dvb-s2 and OTT-Iptv straming receiver with MYTVOnline IPTV Client app also included free-of-charge.
It offers multiple watch posibilities: Live TV and on-demand content from Satellite, Terrestrial*(Usb Dongle), or OTT-IPTV internet sources and you can stream content from your Network-attached-storage or directly from USB.
The included Formuler Learning RCU will Control your TV's power and source input mode also since its programmable.
The video decoding technology supports 4K HDR, HDR10, HLG, 4K 10-bit 60fps h.265, 4K 10-bit 60fps VP9
Some datas:
Tuner & Channel Decoder(Satellite)
Input Connector: F-type, IEC 169-24, Female
Frequency Range: 950MHz ~ 2150MHz
Input Impedance: 75?, unbalanced
Signal Level: -65 to -25dBm
LNB Power: 13/18VDC, max.400mA
22KHz Tone: (22±2)KHz, (0.6±0.2)V
DISEqC Control: V1.0/1.2/USALS Compatible
Demodulation: QPSK / 8PSK Input Symbol Rate: 1 ~ 45 Ms/s (QPSK of DVB-S) - 1 ~ 45 Ms/s (QPSK of DVB-S2)
FEC Decoder 1/2,3/5, 2/3, 3/4, 4/5,5/6,8/9,9.10 and 7/8 (QPSK) 3/5, 2/3, 3/4, 5/6, 8/9 and 9/10 (8PSK)
A/V Decoding
Video Decoding: H.264/AVC BP/MP/HP@level 5.1, H.264/AVC MVC
H.265/HEVC Main/Main 10 profile@level 5.1 high-tier
AVS baseline profile@level 6.0, AVS-P16 (AVS+)
VC-1 SP@ML, MP@HL, AP@levels 0-3
Maximum 4K x 2K@60 fps 10-bit VP9 decoding
Input Rate: Max. 108Mbit/s
Video Formats: 4:3 Letter Box, 4:3 PanScan, 16 : 9
Video Resolution: 720 x 576i, 720 x 480i, 1280 x 720p - 1920 x 1080i, 1920 x 1080p, 2160p(4K x 2K)
Audio Decoding: MPEG-1 Layer 1,2 - AAC-LC and HE AAC V1/V2 decoding
Audio Mode: Streo/Joint stereo/Mono Sampling Rate: 8khz to 192khz sampling rate
Audio / Video & Data IN/OUT TV OUT:
Video & Audio Output
USB: USB3.0, USB2.0
ETHERNET: RJ45 connector, 10/100M Base
WiFi: 802.11 b/g/n / with internal antenna
Phone Jack: CVBS Video Output, Audio L, R Output
Micro SD Card: Micro SD Card Slot
IR Extension: Removable IR extension
S/PDIF: OPTIC
Front Panel
Slot: 1 Smart Card Slot
Buttons: 1 Buttons(Standby)
Indicators: 1 Dual Color LED(Standby, Remote)
Power Supply
Input Voltage: AC 100 ~ 240V, 50/60Hz
Type: Adaptor
Power Consumption: Max. 25W
Standby Power: Max. 0.5W (Ultra low power)
Protection: Separate Internal Fuse & Lighting protection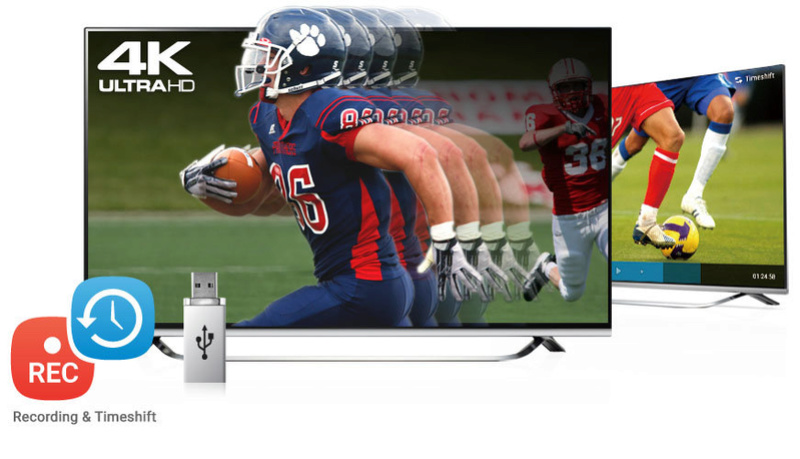 ___________________________________
Vu+Solo SE
IPBOX 910HD
Edision Progressiv HDc+
GooBang Doo ABOX Smart TV
Sat receivers forum
Locuri de munca in Europa